Plan sponsors have witnessed a relatively significant amount of volatility over the past several months. The Dow Jones Industrial Average (DJIA) topped 18,300 in mid-May before falling below the 16,000 level towards the end of August. Since that time, the market has rebounded by more than 1,000 and now sits near 17,000. Both the NASDAQ and S&P 500 have experienced similar ups-and-downs. Both the DJIA and S&P are down for the year while the NASDAQ has managed a year-to-date return of just over 2.0%.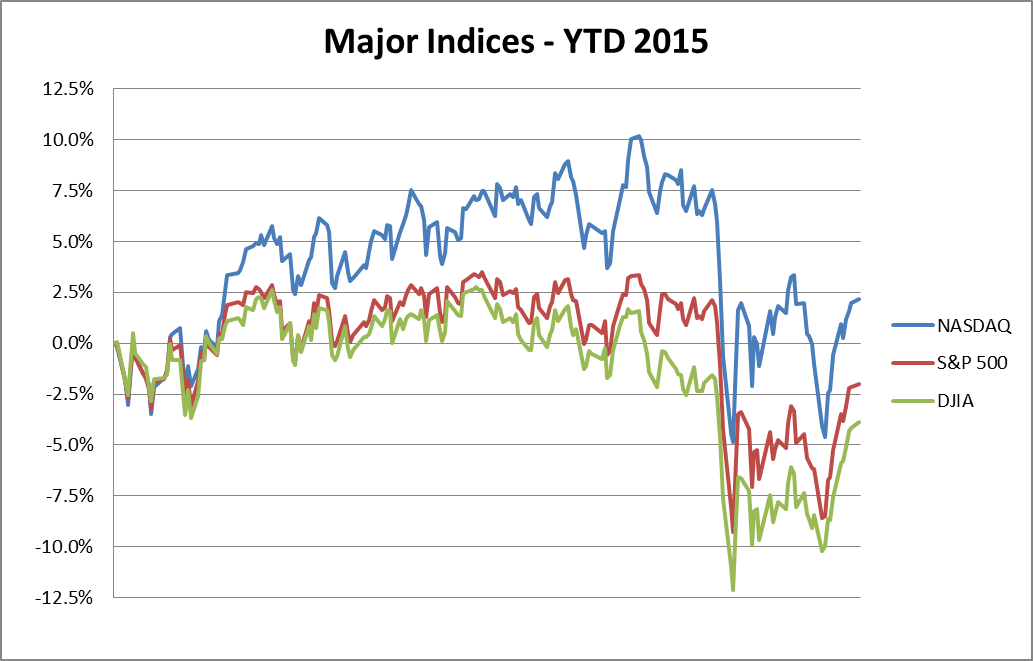 The 10-year Treasury yield has also done a lot of moving throughout the year only to end up in the same place. When we prepared similar correspondence at this time last year, the 10-year Treasury yield was 2.09%. Since then, it has fallen as low as 1.73% and climbed as high as 2.50% but currently stands almost unchanged on a rolling 12-month basis at 2.07%.
Financial Statements
From a balance sheet perspective, we have seen the following shift in the corporate bond yield curve on a year-to-date basis:
Comparison of the Citigroup Pension Index for 12/2014 and 9/2015
The chart above reflects a net increase of approximately 30 basis points (bps) in rates for the first nine months of calendar 2015, with the majority of the increases concentrated within longer-term rates. These higher rates will produce lower balance sheet liabilities (as compared to balance sheet liabilities without any rate changes). Despite these liability gains, many defined benefit plan sponsors could still be facing a net accounting loss for the current fiscal year based on the contrast between their expected and actual investment returns due to equity performance.
Funding Implications
Plans sponsors have seen year-over year decreases to their effective discount rates of approximately 20bps – 25bps under HATFA / MAP-21. Plan sponsors should expect similar rate reductions through 2017 after which the interest rate corridor widens until it becomes fully phased in for plan years beginning in 2021. Despite these falling rates, many defined benefit plan sponsors saw reductions to their plans' minimum funding requirements during 2015, attributable to full recognition of the large initial amortization base established in 2008 as plans came into compliance with the Pension Protection Act (PPA).
While many plan sponsors welcomed reduced funding requirements, there are both short-term and long-term implications. Lower discount rates and unfavorable investment experience combined with fewer contribution dollars to the plan will likely generate higher funding requirements for the 2016 plan year. Looking beyond next year, the industry expects the IRS/DOL to require use of the mortality table recently published by the Society of Actuaries to account for improved mortality among plan participants as early as 2017. Plan sponsors should anticipate continuing increases to their minimum funding requirements as we combine mortality improvement recognition with lower discount rates resulting from rate relief phase-in.
PBGC Premium Rates
Plan sponsors pay annual insurance premiums to the PBGC comprised of two parts – a per participant charge (the flat rate) and an additional premium based on the funded status of the plan (the variable rate). Both the flat and variable premium rates have risen dramatically over the past several years, in large part due to the PBGC's own financial position. The flat rate premium has increased from $33 per participant in 2008 to $57 per participant in 2015 and is scheduled to increase to $64 per participant next year.
The variable rate premium is based on the difference between a defined benefit plan's liability and its assets. For purposes of determining plan liability, the PBGC mandates use of snapshot discount rates that do not have the same extended phase-in used to determine plan funding liability. As a result, PBGC premium liability tends to be significantly higher than that used to determine contribution requirements. As recently as 2013, plan sponsors paid a $9 variable rate premium for each $1,000 of underfunding (0.9%). The PBGC has increased the variable rate premium according to the following schedule:
| | |
| --- | --- |
| Plan Year | Variable Rate Premium |
| 2013 | $9 per $1,000 (0.9%) |
| 2014 | $14 per $1,000 (1.4%) |
| 2015 | $24 per $1,000 (2.4%) |
| 2016 | $29 per $1,000 (2.9%) |
These significant increases to the PBGC premium structure make it increasingly expensive to maintain defined benefit plans.
Looking Ahead
Plan sponsors should consider contribution levels in excess of those required under PPA for a number of reasons:
Absent significant investment return and rise in interest rates, plan contribution requirements are likely to increase in the coming years. In combination with sound credit balance management, larger contributions now will reduce sticker shock later and help smooth minimum funding requirement increases.
Additional contributions deposited prior to the end of the current fiscal year (even if those contributions are simply accelerated from fiscal 2016 to fiscal 2015) will improve the plan's funded status and reduce the following fiscal year's P&L expense.
Plan subject to the PBGC's variable rate premium (without regard to the variable rate cap) can effectively earn a 2.9% return on every dollar contributed to the plan via a reduction in the following plan year's PBGC premium payment.
Exceeding certain funding thresholds provides plan sponsors with more options as it pertains to the targeted management of plan cost increases, including lump sum windows and annuity purchase settlements.
Next Steps
We would be happy to review your plan's funding policy and help determine how to optimize contributions based on individual priorities and circumstances. Beyond that, we continue to urge DB plan sponsors to consider a liability-driven investment (LDI) approach and would be happy to help in whatever ways we can. If you have already adopted an LDI strategy, we will continue to monitor your plan's funded status and asset allocation, rebalancing and/or de-risking in accordance with the plan's investment policy statement and will discuss this information in additional detail as part of our quarterly review.
As always, please don't hesitate to let us know how we can help.
This material is intended for informational/educational purposes only and should not be construed as investment advice, a solicitation, or a recommendation to buy or sell any security or investment product. Please contact your financial professional for more information specific to your situation. Forward-looking statements are not guarantees of future performance and involve certain risks and uncertainties, which are difficult to predict. Past performance is no guarantee of future results.