THE DOL RULING, OUTCOMES, AND GOLDFISH
Get ready for a lot of hand wringing, calls to reject, calls to move ahead, legislative maneuvering and certainly some mudslinging over the coming months regarding the DOL's fiduciary proposal (aka, Conflict of Interest Rule). Opposing sides, citing their own "independent, expert" analysis claim this rule will either save or jeopardize retirement savings.
A BIG piece of the DOL's proposal:  existing retirement plan advisors serving in a non-fiduciary role may be required to serve as fiduciaries going forward. This would be a game changer for many brokers/advisors as they would be held to a higher standard of care and opened up to possible liability.
You can read it about the DOL's proposal here, www.dol.gov/ProtectYourSavings , and industry opposition to the rule here, www.securefamily.org.
No matter what the language in the final ruling is, two things will NOT CHANGE:
(1) Plan sponsors will still have fiduciary responsibility
(2) Focusing on participant outcomes will be essential.
Under The Fiduciary Spotlight
The DOL and ERISA continue to shine a spotlight on the duty of retirement plan fiduciaries, and plan participants and plaintiffs' attorneys have quickly picked up on the ability to recover losses due to a fiduciary breach. Court decisions and enormous cash settlements have underscored this development, and there be likely more to follow.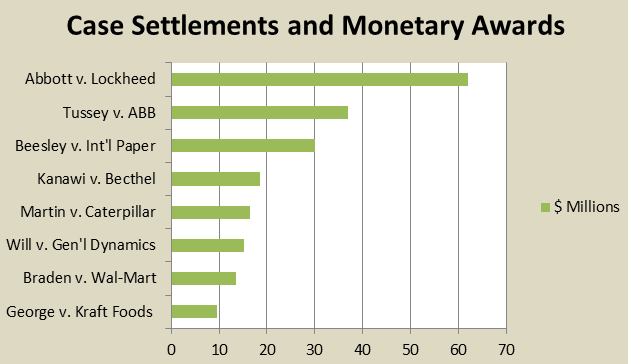 There are common themes throughout these suits that the Courts are intent on enforcing and that plan sponsors would be wise to consider:
Ignorance may be bliss, but it's not a defense. "I don't know what our fees are" or "I don't know if what we pay is reasonable" are not acceptable excuses. Know who you're paying, how much you're paying them, and if the amount is reasonable for the services being provided.
Recordkeepers are not plan fiduciaries. Recordkeepers are just that…recordkeepers. They are not responsible for benchmarking fees, monitoring fund performance, nor are they liable for providing investment education.
DO NOT "set it and forget it". Plan sponsors who thought their responsibilities ended once plan was established faced serious consequences. Monitoring fees, fund performance and plan compliance is an ongoing, essential fiduciary duty.
Outcomes and Goldfish
"Participant Outcomes" – along with other terms like "retirement readiness"– have become industry buzzwords that have populated white papers and financial articles over the past few years. They all refer to the same crucial issue. Specifically, helping folks achieve a sufficient level of income replacement for the duration of their retirement years. Tracking income replacement levels is a much more meaningful measure of overall plan health, and a valuable tool to determine if your employees will be able to retire at their desired age.
Plan sponsors, as shown in response below, are becoming more and more aware of this, and yet still are wary of implementing proven plan design measure that will help improve "outcomes".
So, what plan design measures have been shown to help improve outcomes? Think goldfish…
A Microsoft study showed the average attention span of humans is 8 seconds. (A similar study in 2000, showed it to be 12 seconds.) Goldfish maintain concentration for an average of 9 seconds…so, yes, we have less of an attention span than your average goldfish. This directly relates to retirement planning. Behavioral scientists will tell you that humans are not hard wired to plan for the long haul. We are increasingly focused on the short to immediate term, which is compounded by the digital, mobile age we live in. We expect immediate results, immediate responses, and immediate answers. Therefore, we must acknowledge that saving for retirement runs counter to our natural instincts, and why plan design that involves automatic features is even more crucial to improving outcomes.
BETTER PLAN DESIGN IN 3 STEPS:
Automatic Enrollment with an Automatic Escalator
Helps solve employee inertia, decision paralysis, procrastination
Helps increase plan participation levels and testing
Consider an initial deferral rate of at least 3% AND escalate at 1 or 2% annually
Annual Re-Enrollment
Employees are asked to re-enroll into their health plans each year…why not implement same process for company retirement plan?
Consider automatically re-enrolling all employees who have opted out earlier and force them to opt out again
S    T    R     E     T     C     H  the Company Match
Matching 100% on first 3% of employee contributions, for example, passively suggests to employees that they need to contribute only 3%.
Consider changing to 50% on 6%…thereby encouraging employees to contribute more without increasing cost to employer
Common feedback from organizations cite cost and fear of employee pushback as reasons for not implementing the above plan design improvements.  A couple things to consider:
Employees Want A "Kick"…
A recent American Century survey indicates over 80% of participants wished their employers would provide either a slight nudge, strong nudge or a "kick in the pants" when it came to educating and encouraging them about "retirement readiness."
Cost and Consequence Of Delayed Retirement
Forward-thinking organizations recognize the costs associated with delayed retirements. Experts estimate that the additional cost to employers is between $10,000 and $50,000 per year, per employee for every year that participants delay their retirement beyond normal retirement age. ("Impact of Employee Financial Stress on Health Care Costs" Financial Finesse Report). Add this to the dilemma of having younger employees frustrated at the limited opportunities to advance and there are significant consequences for organizations unable to help folks retire at their desired age.
A recent WSJ article, "Companies To Workers: Start Saving More – Or We'll Do It For You", speaks directly to these points: WSJ Article
Big Shoulders… And A Trusted Partner
This is a lot to put on employers and HR departments, and there are understandable reactions like:
"I need to worry about running the business. I can't be responsible for an employee's decision on whether to save for retirement or not."
"We hire, train, and compensate,…now, we have to make sure employees are prepared for retirement, and if we miss something, we could be liable?"
The short answer, YES…which is why the majority of plans have an advisor look out for the plan's best interests…which is why, the DOL wants to strengthen the standard of care required of these advisors and elevate them to fiduciary status.
Experienced, thoughtful retirement plan advisors, who serve as a plan fiduciary, can unburden plan sponsors and allow them to focus on their business. Through improved plan design and providing impartial investment guidance, participants stand a better chance of improving outcomes and achieving retirement at their desired age.
The Financial Professionals of Summit Financial Corp (7 New England Executive Park, Suite 900, Burlington, MA 01803) offer access to Securities and Advisory Services through Commonwealth Financial Network, Member FINRA/SIPC, a Registered Investment Adviser.